Dance department rolled out red carpet for Hollywood show
Centennial's dance department took the stage at the Spring Dance Concert held on April 28th and 29th.
Dance Fusion began practice after school from 1:45-5:00 p.m. at the beginning of March to prepare for the big night.
"I think we had enough time in total to practice because we had over a month to review the dances on our own time, but because a lot of people wouldn't take the time to review them at home, it made it harder during the actual practices," sophomore, Keira Garcia said.
Using the website showtix4u.com, students paid five dollars for each ticket, and family members/non-student guests paid seven dollars. In the lobby, audience members bought individual roses for two dollars each, wrote encouraging notes to the dancers, and received popcorn for free.
"The theme for this concert was Hollywood, and I liked it. I thought all the songs and dances fit the theme very well," sophomore, Amaya Smith said.
As the audience filled Centennial's theater, dancers backstage prepared makeup and costumes for the last performance together as a team this year.
"Honestly, I wasn't really that nervous. I was more so sad because it was our last time ever performing with the whole team and our captain Haley this year," Garcia said.
There were 18 dances total- three more than at the Winter Dance Concert. The show commenced at 6:00 p.m., and ended at around 7:30 p.m., with a ten minute intermission at 6:50 p.m.
"I loved all of the dances; they were all very creative choreography-wise, but Haley Simmons' ballroom dance to 'On the Floor' was one of my top dances for the whole year. It was the first time I did ballroom, so it was a different experience. Through the practices, I got to realize how much I loved this new style of dance," Garcia said.
Multiple dance styles were incorporated into the show, including ballroom, contemporary, pom, hip hop and jazz.
"I'm in Dance 1, and our dance was about the Hollywood Tower of Terror, and there were five ghosts that got struck by lightning. I did not like the dance because we didn't dance that much, but it was creative," Smith said.
Leave a Comment
About the Contributor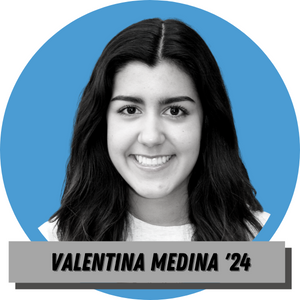 Valentina Medina, Staff Writer
Valentina's love for reading and writing brought her into taking journalism for her first two years of high school. She's very creative, and she dedicates...