The latest James Webb Telescope photos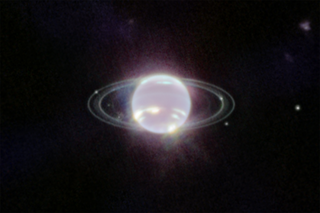 The James Webbs Space Telescope first launched on December 25, 2021, at 4:20 pm.
It took about three months for the telescope to unfold and six months for the first images to be taken. One of the first images released was of the Carina Nebula, giving a whole new look at its activity.
The James Webb telescope has taken photos of all kinds of things around the galaxy including the early universe, galaxy collisions, and exoplanet atmospheres, but most recently the telescope has taken the clearest photo of Neptune's rings in decades as well as revealing photos of Mars' atmosphere.
"I think the photos are amazing. I don't normally care about stuff like this but the photos look super cool," sophomore, Alex Tribune said.
The telescope allowed scientists to view Neptune's fainter dust bands in infrared lighting for the first time. In the pictures, a thin line of light, seen around Neptune's equator, could be what powers the planet's storms.
Neptune's equator, though out of shot, has a peculiar brightness around it, the reason why is unknown to scientists. A vortex, already known to scientists, can be seen in the photos, but it has been revealed that there is a high ring of clouds around it, previously unknown.
"Every time I hear about the telescope photos it makes me wonder what photos and information will come next. I hope it continues to take awesome pics," junior, Sabrine Artino said.
The first images of Mars were released on September 19 at the Europlanet Science Congress. Since Mars has such bright infrared light, scientists had to use very short exposures to avoid blinding the telescope's instruments.
The images, captured by the telescope's Near-Infrared Camera, could be used in conjunction with rovers to help us understand Mars better. These photos will help astronomers study Martian weather patterns, dust storms, and the planet's seasons.
The James Webb telescope continues to collect data on things around the galaxy that are proving to be immeasurable in worth to scientists. It will be interesting to see what comes next.
Leave a Comment
About the Contributor
Elizabeth Merrill, Staff Writer



Elizabeth Merrill is a junior. She hopes to be an astrophysicist in the future. Elizabeth enjoys reading and playing with her cats. She also likes...