Virginia bill would ban transgender athletes from women sports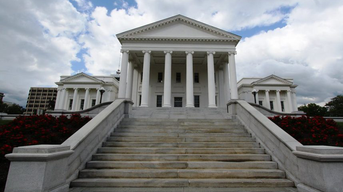 The Virginia House of Delegates advanced a bill on Monday that would ban transgender women and girls from competing in women's sports at any level in Virginia schools.
"The purpose of House Bill 1837 is to protect our girls and young women from being forced to compete against biological males," Delegate Karen Greenhalgh (R-Virginia Beach) said. "Similarly gifted and trained males will always have the physical advantages over females, which is the reason we have women's sports."
The legislation would require transgender athletes in the commonwealth to compete in sports aligned with their biological sex. If passed, the law would apply to all athletes from kindergarten through 12th grade, at public colleges, universities, intercollegiate, interscholastic, and club sports.
Since these rules were enacted in 2014, 28 transgender students have applied and 25 have been granted the right to play on teams aligning with their gender identities.
Republicans currently control the Virginia House of Delegates by a 51-47 margin; however, Democrats have a 22-18 majority in the state Senate, making the bill's fate beyond the Virginia house uncertain.
On his first day in office, Biden issued an executive order saying students should play sports teams based on gender identity. Since the president's decisive stance on transgender athletes, an onslaught of bills has emerged from over two dozen states.
In 2021, lawmakers in at least 24 states proposed similar legislation to ensure participation in women's sports is based on female biology, not gender identity.
Federal legislation in 2021 was also introduced in the House and Senate. The "Protection of Women and Girls in Sports Act" states that schools that allow "biological males" to compete in girls' athletics could lose federal funding.
Leave a Comment