Artemis 2: NASA Moon Mission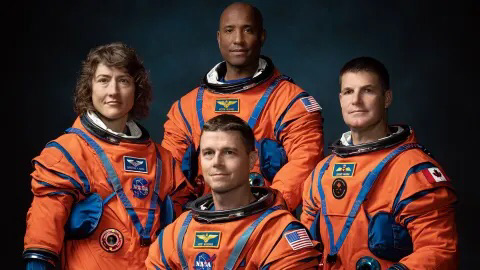 The first of NASA's Artemis missions launched on November 16, 2022. The Artemis missions aim to have a permanent base on the moon and send humans to Mars.
The first Artemis mission lasted almost 26 days and consisted of a spacecraft completing a flyby of the moon. The next mission is Artemis 2, and the goal is for a human crew to do a flyby of the moon.
"I'm really excited that this is happening. You hear the stories that your parents and grandparents tell you about how they all gathered around the television to watch the moon landing and hearing those famous words. I can't believe that we'll get something similar in our lifetime," freshman, August Winslow said.
The people chosen as the crew for this mission are NASA astronauts Victor Glover, Christina Koch, Reid Wiseman, and Jeremy Hansen from the Canadian Space Agency.
Reid Wiseman will be the commander. He is a test pilot and naval aviator who was also selected to be an astronaut in 2009. He served as chief of the astronaut office until Nov. 2022. Jeremy Hansen will be the first Canadian to travel into deep space. He is a fighter pilot and was chosen for astronaut training in 2009 by the Canadian Space Agency.
"I hope everything goes as it should for the upcoming missions. It's exciting that we will get to see these people complete their mission. It must be awesome to get to be that close to the moon," freshman, Jeremy Kline said.
Christina Koch has been on six spacewalks, one of which was the first all-female space walk. She holds the record for the longest space flight by a woman, 328 days. Victor Glover is a naval aviator. His first space flight was on the SpaceX Crew-1 team, which included spending six months on the international space station.
"When the space launch happens, I will be watching it on my tv and checking my phone for updates every ten minutes. When will this next happen in our lifetimes?" sophomore, Caleb Russo said.
The Artemis 3 mission is planned to put humans on the moon, something that has yet to be achieved since the Apollo 17 mission nearly half a century ago. Artemis 3 will consist of the same crew as Artemis 2. If all goes well, Christina Koch will be the first woman on the moon, and Victor Glover will be the first person of color on the moon.
"I can't wait to see this moon landing when it happens. I'm grateful that the crew is so diverse and that we'll have more than just white men doing things," junior, Kelsey Arnett said.
Leave a Comment
About the Contributor
Elizabeth Merrill, Staff Writer



Elizabeth Merrill is a junior. She hopes to be an astrophysicist in the future. Elizabeth enjoys reading and playing with her cats. She also likes...