Thanksgiving shootout ends in Raiders victory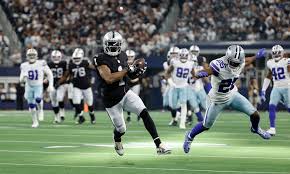 By: Christopher Lellos
Bark! Voice of the Bulldogs
Tech Director
Thanksgiving football was back and forth between the Raiders and the Cowboys with the Raiders squeaking it out in overtime 36-33.
This game was a huge success when looking at the current situation for the playoff race. The Raiders are now tied with the Chargers and Broncos with the Chargers having the 7th seed in the playoffs. The Raiders could steal that last spot in the next few weeks with some more wins and with the Chargers who are looking inconsistent, fall off the cliff.
The offense was firing on all cylinders with the star of the show being Derek Carr throwing for almost 400 yards. With that performance he is now back in the lead for the most passing yards in the league. Also when Derek Carr throws over 300 yards the raiders are undefeated which is always a good sign.
Wide Receivers Hunter Renfrow and DeSean Jackson rallied up almost 250 yards between the two of them and made explosive plays during the game. DeSean Jackson started off the game with a huge touchdown blazing past the Cowboys defense which he is known to do throughout his career.
With a total of 140 rushing yards, the Raiders ground game was more present than it has been in a while with Josh Jacobs leading the Backfield with 90 yards and a touchdown. Even the raiders backup quarterback Marcus Mariota came in for a play in the red zone and managed to score.
The game was heavily flagged by the refs causing both teams trouble during the whole game with a total of 24 flags. Some of those helped the Raiders get down the field to score the winning field goal in overtime .
This game was a huge bounceback win for the Raiders ending their losing streak and giving the team new life moving forward. Now they must prepare to head for the Washington Football Team next week.
Leave a Comment