About
The mission of BARK! is to provide Centennial High School students with necessary information from their school and the world, to generate awareness in current issues and critical thinking, to recognize and promote the diverse cultures at CHS, to serve as a forum for student expression and to entertain.
BARK! is published by the advanced journalism students at Centennial High School, with additional contributions from Journalism I students. Editorials express the views of the editorial staff of BARK! All other views expressed on the Opinions pages are those of the specified writer and do not reflect the views of Centennial staff or students or the Clark County School District. BARK!'s business office is located at 10200 Centennial Parkway, 89149.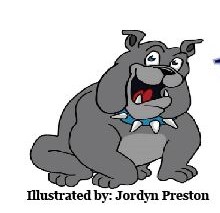 In honor of former staff member Jordyn Preston, Blu (the cartoon bulldog) remains part of our masthead in honor of her life and dedication to the newspaper.