New faces try out for Dance Fusion
Any Centennial student may attend the Dance Fusion tryouts on April 6 and 7 from 4:00 to 5:30 p.m.
There is a parent information meeting on March 29 at 6 p.m. in room 200 for any parents to attend whose children are interested in joining the team.
Anyone with any skillset is allowed to try out, but it would be best to have experience in dancing, as Dance Fusion is very competitive and skilled.
"I have about five years total of dance experience, but I never did competition or anything like that, which is why I'm not quite at the same level as the other girls,"sophomore Amaya Smith said. "I'm super nervous to try out because I know I'm not as good as the other girls, but sometimes you have to take risks in order to learn."
There are currently twelve dancers on the team, but dance teacher Michelle Dunn hopes to have around sixteen to twenty dancers next year. This large number of people on the team would provide more opportunities to do bigger dances and choreographs.
"The smaller size, I feel, makes it easy to bond with the team as a whole. The bigger the team, the harder it is to have a personal connection to everyone on the team," sophomore Keira Garcia said. "I'm still excited for a bigger team though, and getting to meet new people who have the same passion for dance that I do."
Not only does the new team mean new people, but it also means seniors on the team will be graduating, leaving both big dance shoes to fill and new opportunities for rising classmen.
"Our only senior this year is Haley Simmons. This is her second year being captain, and she is wonderful at it. She is someone I look up to greatly, and I can't imagine being on the team without her next year," Garcia said.
Leave a Comment
About the Contributor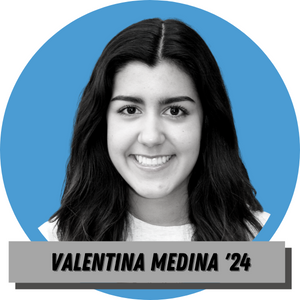 Valentina Medina, Staff Writer
Valentina's love for reading and writing brought her into taking journalism for her first two years of high school. She's very creative, and she dedicates...