Seniors prepare for gradution
As the school year approaches the last couple of months, seniors prepare for graduation academically and emotionally.
The first deadline for the graduating class is April 22; all scholarships received must be turned in to Ms. Simmons. In addition, the top three students will write a one-minute and a half long speech for the graduation ceremony.
"Since I'm third in my class academically, I am required to make a speech just in case the first or second student in my class can't do it anymore or they don't meet the highest GPA score. However, that's highly unlikely and almost statistically impossible," senior, Salome Medina said.
In contrast to prior years, Centennial will only honor the top two students instead of the top ten students.
"Speaking from the mother of Salome Medina, I am disappointed that Centennial High School will no longer honor and acknowledge the top ten students as valedictorian and salutatorians. Now they are only celebrating the top two, and it's very disappointing because all of these top students have worked very hard for their accomplishments and GPAs," Barbra Medina said.
Students who earned an advanced honors diploma will wear white caps and gowns to the graduation ceremony, and the other students will wear blue caps and gowns.
"We've already paid for cap and gowns; they were $90, but earlier they were cheaper. It's required to buy one, or you will not be allowed to go on stage," Medina said.
Before school started in Aug., Centennial hired a professional photographer to take pictures of the seniors in caps and gowns for the yearbook. The photographer took classic graduation pictures of the students with props, and those packets cost $500.
"I took senior pictures with the photographer the school set up for us, but the pictures were too expensive, so my mom will be photographing me with our Canon 80D camera. We're taking pictures at the Valley of Fire on Easter to have a more natural environment," Medina said.
Graduation is not only a stressful time for seniors but also an emotional rollercoaster.
"I'm not mentally prepared for graduation because I have to move two days after. I'm going to miss my hot, 6 foot 3, curly hair unit of a boyfriend the most, and I'm going to miss extracurricular activities after school the least," Medina said.
Leave a Comment
About the Contributor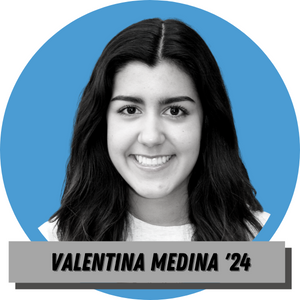 Valentina Medina, Staff Writer
Valentina's love for reading and writing brought her into taking journalism for her first two years of high school. She's very creative, and she dedicates...