New sun shade awning built in the quad
Bark! Voice of the Bulldogs
Staff writer
On April 19, construction workers taped up a majority of the quad to build a sunshade canopy.
Centennial students and staff came back from Spring Break and were surprised to see the construction beginning.
"I kind of wish it was done over summer, but it doesn't affect my life, and I'm excited for them. It must be a pain for students trying to get to class though," fashion teacher at Centennial, Ms. Reuel said.
Since students are no longer permitted to walk to class through the quad, this causes a backup in the passageways around the taped-off area.
"I think it does make it harder to get to class because it causes kids to all have to go the same way, which makes it take longer," sophomore, Amaya Smith said.
Despite the disruption the construction caused, there will be double the amount of shade coverage for students to enjoy sitting outside more.
"I only really eat outside on A days. I think when it gets hotter out, the shade would be really nice, but the construction is kind of inconvenient while school is in session," Smith said.
By attracting more students outside, the administration hopes it will decrease the number of fights in the cafeteria. Whether the plan works to prevent violence at school or not, students will benefit from the increased amount of shade space throughout the quad.
"I do not think it will prevent fights because no matter how many accommodations you make to a school, fights are not really preventable," Smith said.
Leave a Comment
About the Contributor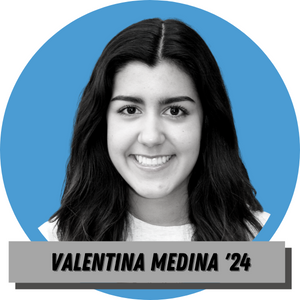 Valentina Medina, Staff Writer
Valentina's love for reading and writing brought her into taking journalism for her first two years of high school. She's very creative, and she dedicates...