Black Student Union Kicks off School Year with First Meeting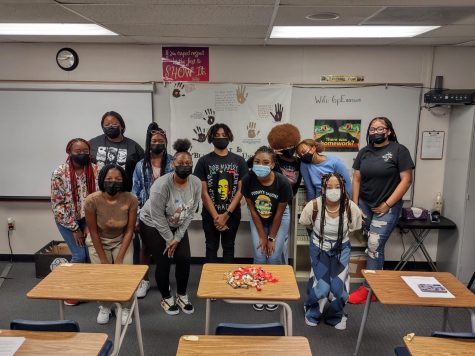 When asked how many students were interested in running for leadership positions, five hands shot up.
Over two dozen students attended the first meeting of the year for the Black Student Union at CHS last Thursday. Teachers Hazel Germany and Jill Wilkin, as well as counselor Jasmine Burton facilitated the meeting. The BSU represents students on campus, and encourages members to perform
service work that benefits the community and can help with college admissions, sorority and fraternity membership, as well as looking good on resumes for the working world.
"We want you to be role models on campus," Mrs. German told the attendees. When pointing out GPA and citizenship requirements for members, Mrs. German also said, "You've got to be good representatives in your classrooms as well," noting that teacher recommendations were also a qualification.
Student Heavenly Sherills pointed out her handprint on a banner made by previous members. Her portion of the banner stated in part that BSU "is an empowerment group of young males and females no matter what race that come together to learn about…African American culture. We all do group projects, go on field trips, and [perform] community service to help better the community and the world."
The club discussed hours and meeting expectations as well as plans for a homecoming float. Meetings are every other Thursday after school in Mrs. Wilkin's room, Portable 3.