New president takes over National Honor Society
At the National Honor Society club meeting on Apr. 5, 2022, Andrew Cirincione was announced to be the next president of the Centennial High School chapter of the NHS.
The National Honors Society is a prestigious group, and to be the head of a chapter takes vast determination and hard work.
Marnie Penkalski, the club advisor, sent out an email on Mar. 13, 2022, outlining an officer's duties and a form to complete to cast one's name into the ring.
"When I received the email, I thought about it for about two days and then decided that it was something I was interested in. Answering the questions was easy; it was just the anticipation of whether I got the job or not that killed me," junior, Andrew Cirincione said.
Choosing the next club president adds pressure on the club advisor; however, this year, there was only one submission.
"If there were more than one person, they would give a speech, and the club would hold a vote. However, we have the interested party submit a paragraph about why they would do a good job, and then we hold them to the standard that they set for themselves," NHS advisor, Marnie Penkalski said.
The club president will need to make the agenda for each meeting, plan out service projects and much more.
"When the opportunity to apply presented itself, I knew it was not something I wanted to pass up. I have been in NHS since middle school and have a passion for public service. I knew I had the capacity to lead and wanted to pursue the presidency because of that," Cirincione said.
This job can put pressure on whoever takes the opportunity, but Andrew does not want to shy away from the challenge and accepts the responsibilities wholeheartedly.
"While I may be the president of the club, I believe that NHS is a team. No decision is mine or the other officers alone. I will prioritize the will of the whole club and community over our own. I am very excited to step into this role and look forward to leading the club to the best of my ability," Cirincione sad.
Leave a Comment
About the Contributor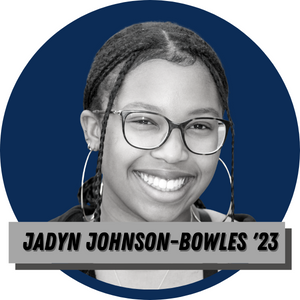 Jadyn Johnson-Bowles, Staff Writer




Jadyn Johnson-Bowles is an ambitious 11th grader who is not afraid of challenges. Her love for writing has served her well, and she hopes to bring...